Metaphors in Mind
now available as an eBook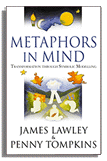 Download on your iPhone, iPad, or iPod with iBooks and on your computer with iTunes at just US$9.99:
http://itunes.apple.com/us/book/metaphors-in-mind/id612488806
For the first time, James Lawley and Penny Tompkins will be presenting their streamlined version of
, incorporating the Clean Language of David Grove.
bestselling author, offers a fascinating look at metaphors and their influence, from ordinary conversation and commercial messaging to news reports and political speeches.
And it features Clean Language and Symbolic Modelling.
.
---
May 2010
Author of
NLP at Work,
and
NLP Solutions
Sue Knight
 says:
"Some of the best proponents of what NLP is all about are Penny Tompkins and James Lawley, authors of Metaphors in Mind – a book that comprehensively illustrates the work of David Grove who they so skillfully modelled over recent years (and who sadly died last year). Not only did they gracefully build the rapport with David that allowed them to gain access to his powerful ways of thinking and working but they captured the essence of that in their presentation of Clean Language and Clean questions. However to be 'clean' in the way that we interact with others requires a lot of skill and discipline. To be clean means to put aside our notions of what might be happening and to be prepared to be in a non-knowing state, openly allowing our experience to inform us of new worlds in thinking and being."
Rapport Magazine
, Spring 2010, p. 22
---
February 2009
The Cranky Middle Manager Show
Wayne Turmel
host of
The Cranky Middle Manager Show
talks to Penny Tomkins and James Lawley about using 'Clean Language' and the value and psychology of metaphors. Listen in at
cmm.thepodcastnetwork.com
---
January 2009
Penny Tompkins and James Lawley's
Developing Group Notes
Last year we added a new category to the site —
The Developing Group
. The group has run bi-monthly since October 2001. Recently we published many of the background notes about the topic presented on each day. Over 30 are now available and more are being added periodically. Below is a selection of recently added notes:
---
September 2008
-
Groundbreaking Process Published — at last!
We have recently added an article about Self-Organisation as it was used during a
Large Group Metaphor Process
at the Findhorn Community in 2003. This process combined a number of theories and concepts derived from David Grove's work to a group of 80 people over 4 days.
---
August 2008
- Vive la France!
13 October - Noémie Dehouck et Nadine Lecamus will present 'Atelier de la communication - Modélisation symbolique' at the NLPNL Conference in Paris.

27 November - Lynne Burney will present 'The Power of Six' at the International Coaching Federation Conference in Madrid.

---
July 2008
-
Two special events in Normandy, France
between June 29 - July 5, with Penny & James Jennifer & Phil
click for more information
---
June 2008 -
The very first
Clean Conference
'Magnetic Metaphors
and Creative Conversations'
takes place in LONDON, June 21-22 2008 and is organised by the
Clean Change Company
.
---
May 2008
-
New EK web site launched
Philip Harland
and
Matthew Hudson
, who both worked closely with David Grove during the last year of his life, have launched a joint website dedicated to his 'Powers of Six' work, at
www.powersofsix.com
  Philip said: "The Powers of Six developed from applications of Emergent Knowledge in the worlds of therapy and self-discovery. They take the principles of Clean Language and Clean Space into another dimension."
---
January 2008 -
Caitlin Walker
has produced an excellent new training DVD:
An Introduction to Clean Language and Systemic Modelling.
You can find information about Systemic Modelling and order a copy of the DVD through the
Training Attention
web site.
---
December 2007 -
Using Metaphor, Clean Language and Herbal Medicine for whole system healing
Nancy Doyle, a Chartered Organisational Psychologist, has teamed up with Lulu Sanderson, a member of the National Institute of Medical Herbalists, to write a new article and put on a unique event — The Health4Life course. This "gives to others the benefit of the experiences we have given each other over the years in herbal medical treatment, coaching, listening and personal development." Surely a first!
---
November 2007
- Found in Translation!
Latest translations of David Grove's Clean Language into Portuguese, Dutch and Swedish - find them in the Worldwide category.
---
October 2007
Want to know what Clean Language sounds like? Want to see a person explore their Metaphor Landscape? Well now you can. We have just made available a
twelve minute clip
of the opening of our Symbolic Modelling session captured on the DVD,
A Strange and Strong Sensation.
---
August 2007
Now here is an interesting story ... about conversing with birds, saving one's sanity, a neurosurgeon's headache, radical unknowing, spiritual paths, Symbolic Modelling ... and more. John Davis from New York City muses on
Alternate Ways of Knowing
and demonstrates why his first novel,
Howling in Ecstasy Under the Texas Moon,
should be a great success.
---
June 2007

James Lawley and Penny Tompkins established
The Developing Group
in
January 1997 and since then it has met every two months. The Group's initial focus was supervision, however, in October 2001 it changed to providing a forum for the exploration of new ideas in the field. Each day is accompanied by background notes which later form the basis of a published article or they remain 'work in progress'.  The articles have always been available on this site but now we have decided to make available all of our unpublished notes as well. Eleven
articles and notes
have been posted so far.
---
May 2007
Clean Language first evolved in a therapeutic context — and as Martin Snoddon describes in his article,
Clean Language as a Research Interviewing Tool
, its uses have extended into areas where conflict is not just a metaphor  for the workings of a person's mind, and where clean communication allows apparently incompatible individuals and groups to engage with a common aim for peace and healing.
---