Mente e Metafore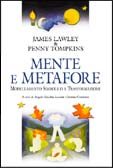 MENTE E METAFORE
MODELLAMENTO SIMBOLICO E TRASFORMAZIONE
James Lawley and Penny Tompkins
A cura di Angelo Recchia-Luciani e Justina Claudatus

* * * Download entire book FREE. Scaricare intero libro GRATUITO * * *

Italian Clean Questions
First (draft, 2004) version of
David Grove's Clean Language Questions Translated into Italian
Translation by Laura Fracasso with Philip Harland
Modellamento Simbolico: storia di una guarigione
Il mio primo incontro con il modellamento simbolico è stato da paziente. O meglio, da cliente, come è più corretto denominarmi. Una differenziazione apparentemente insolita, ma molto sottile. Nella mia vita ho sperimentato la malattia mentale e questa tecnica ha dato una svolta decisiva alla mia guarigione, ma più ampiamente, a tutta la mia esistenza....
Una Rivoluzione Scientifica
Preface to Italian translation of
Metaphors in Mind: Transformation through Symbolic Modelling
. MENTE E METAFORE: MODELLAMENTO SIMBOLICO E TRASFORMAZIONE.
La Pratica del Modellamento Simbolico
Preface to Italian translation of
Metaphors in Mind: Transformation through Symbolic Modelling
. MENTE E METAFORE: MODELLAMENTO SIMBOLICO E TRASFORMAZIONE