Mind, Metaphor and Health
Published in
Positive Health
in 2002, we explain why metaphor is a natural way to describe illness and health, the importance of recognising patient/client metaphors, and how working
within
these metaphors can activate an individual's personal healing process.
Metaphor the body and healing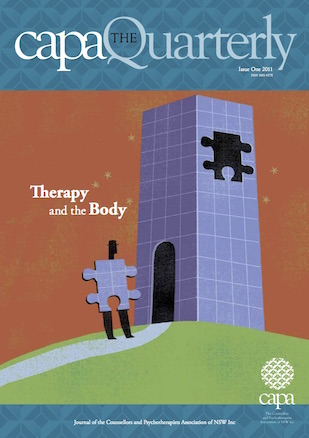 British therapists James Lawley and Penny Tompkins, specialists in the Clean Language approach to client-therapist dialogue, present a fascinating look at 'Metaphor, the Body, and Healing'.

Cutting Edge Metaphors

Some fascinating developments in the fields of neuroscience and cognitive linguistics over the last 30 years have furthered our understanding of how we structure our thinking through metaphor. This article considers how this might be relevant to a surgeon. First published in
Journal of the Association of Surgeons of Great Britain and Ireland
, 2012.
Body Awareness
Notes about the relationship of the Mind-Body and Body-Mind:
1. General quotes
2. Thoughts of Moshe Feldenkrais
3. What is the body?
4. Body 'communication'
5. Body metaphors
6. The embodied nature of meaning and metaphor -
balance
7. Recommended reading
Using Metaphor, Clean Language & Herbal Medicine

Nancy Doyle
, a Chartered Organisational Psychologist, has teamed up with
Lulu Sanderson
, a member of the National Institute of Medical Herbalists, to write an article and put on a unique event —
The Health4Life
course. This "gives to others the benefit of the experiences we have given each other over the years in herbal medical treatment, coaching, listening and personal development." Surely a first!
Healing Unresolved Trauma Through Meta-Aromatherapy
Meta-Aromatherapy goes beyond the very beneficial use of the essential oils alone. It uses a number of therapies in combination which are particularly effective for chronic conditions and uses the psychological aspects of essential oils. Aromatherapy massage and gentle touch techniques aid in releasing long-held associated tensions through the kinaesthetic response. Counselling's listening and verbal communication along with specialised hypnotherapy techniques and Clean Language further develop this powerful, yet safe, method of unfolding and release found through Meta-Aromatherapy treatments.
Healing Embodied Metaphors
This article describes a structured approach to working with embodied metaphors. The approach is based on Robert Dilts' (1990) method of combining problem states with resource states to create a desired state. When working with metaphors the process can be rewritten as follows: problem metaphor + resource metaphor = desired outcome metaphor.