Findings
Table 1 shows the evaluations for the 5 triads involving 10 observed coaching sessions.
Key:
a = Client's rating for value of session to them.


b = Coach's estimate of client's rating (a)
c = Observer's estimate of client's rating (a)



d = Observer's rating of coach's clean coaching skills


e = Coach's estimate of observers' rating (d)



f = Coach's rating for quality of the session






 Client
rating

 Coach
ratings

Observer
ratings

 Client

 a
 b
 c
 Coach
 
 f
 d
 Observer
 
 e
 
Table 1: Ratings by Clients, Coaches and Expert-Observers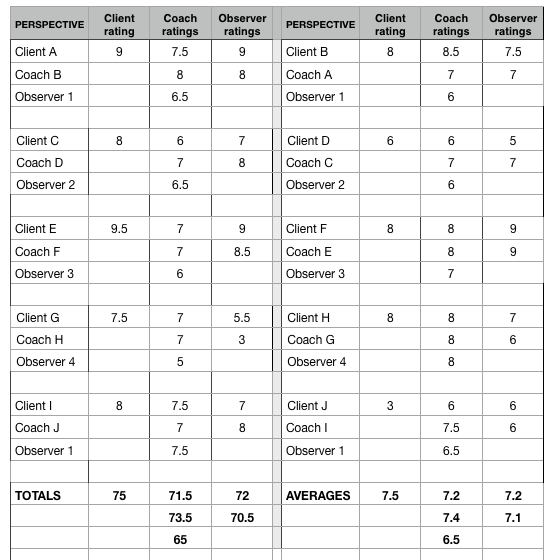 ...
Table 2: Clients' criteria used to assess the value of the session

Criteria collated into three categories:
Effect on self
Relationship with coach
Other coaching skills

Note: The italics has been added by the authors to indicate why category was chosen.
EFFECT ON SELF
New insights.
Some 'aha' moments.
I like to feel [I've] have had insights.
New information came out.
Do I feel I have a clearer idea of what I want and what the current state is?
I now have a clearer idea of what is happening and how I can go forward.
Did I feel clearer?
Had clarification of what I needed to do and a check on whether I would actually do it.
Helped me clarify and develop my outcome.
The importance of the situation is now more obvious.
The things that are combining to perpetuate the present situation are more developed and understandable.
Changes in the metaphorical representation.
Changes in my inner response.
Paper mapping provided different perspective.
I "renovated" - reframed two [of my] coaching programs into a new offer for 2015.
Disconnected a big value criterion.
I like to feel like I've made progress
The movement towards what I want out of the session.
Learned something about 'system' outcome.
Support in identifying actions that feel appealing and potentially useful.
This is also something I can develop with [name].
I feel I have something I can take away of use that will make a difference
Confidence in following thru on identified actions.
Able to take action on my outcome.
Had actions to do what felt correct.
Resonates with things which have come up before.
My resources from the past are memorable now and can be used in the future.
The importance of the topic that I was working on (the value to me).
RELATIONSHIP WITH COACH
Sense of permission to explore.
Sense of acceptance that I could explore whatever I wanted to explore.
How safe I felt in the session to say what I wanted to say.
Attention of coach on my words and actions.
Level of presence of the coach.
Would have liked to feel more presence from the coach.
Rapport with coach.
Did facilitator feel sympathetic
OTHER COACHING SKILLS
Coach was a valuable asset in this.
The fluidity/flow of the session.
Did not write so session flowed.
Necessary conditions to 'feel'
[Getting to a] Decision point, gut-mind together.
Clean Space modelling of 1st step provided valuable information.
The extent that the coach could distinguish between problem and desired outcome
Responsiveness and useful directing of attention.
When had to answer questions that did not feel relevant/or clean that detracted from the session