4. Symbolic Modelling Room

Welcome to the Symbolic Modelling Room in the Clean Collection.
Symbolic Modelling began when
James Lawley and I (Penny Tompkins)
undertook an extensive modelling project of the work of psychotherapist
David Grove
in the mid-1990s. In addition, we devoured books on cognitive linguistics — the academic basis for the significance of metaphor in thought, word and deed. A real breakthrough came when we recognised how the principles of self-organising systems theory and evolutionary dynamics could apply to
the way people's metaphor landscapes change and evolve
.
Our first article
on Symbolic Modelling appeared in 1997, and in 2000 a comprehensive guide to the theory and practice was published in our book,
Metaphors in Mind
. A demonstration DVD,
A Strange and Strong Sensation
followed in 2003.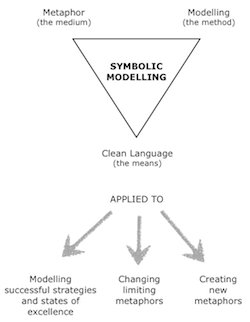 Originally, Symbolic Modelling was made up of three components: It is an approach which uses
Clean Language
to facilitate individuals to become aware of the organisation of their
metaphors
and symbols through
self-modelling
. By using their
exact
metaphors as the raw material for the modelling process, a living, breathing, four-dimensional world within and around the client emerges – a metaphor landscape. During Symbolic Modelling change-work, clients' metaphors begin to evolve. As this happens their everyday thinking, feeling and behaviour correspondingly change as well.
Once a person experiences a 'clean environment' they discover their highly personal metaphor landscape and they come to value their own experience in a new way. Maybe for the first time they come face-to-face with their authentic self – 'uncontaminated' by the other person in the room. It can be a unique and sacred experience.
Naturally, I recommend you spend some time in this room and a good place to start is with the introductory article,
Metaphors in Mind: A Case Study
.
Over the years, we have found that Sy
mbolic Modelling
is especially suited to working with 'big issues' and 'higher levels' of experience as well as complex and seemingly intractable binds and double binds not amenable to traditional techniques.  Although Symbolic Modelling is a stand-alone process it can be easily integrated with other therapeutic and coaching models, as described in
Tangled Spaghetti in my Head
.
While Symbolic Modelling originated as a change process, it is now being used to facilitate individuals and groups to create new metaphors, and by academic and commercial researchers seeking to get beyond the obvious.
After you've had your fill in here, please follow me into the latest addition to the collection, the
Clean Space and Emergence Room
.